Recovery Codes
Last updated June 16, 2023
Recovery codes provide an important backup if your usual multi-factor authentication (MFA) verification method isn't available. For example, if you normally use Salesforce Authenticator, but you forgot your mobile phone, you can still log in using a recovery code. Generate a list of 10 single-use recovery codes that you can keep in a safe place until you need them.
After you enable MFA, we strongly recommend that you generate recovery codes as soon as possible. Keep your recovery codes in a safe, easy-to-access place, and protect them like you protect your passwords.
Getting Recovery Codes
Generate recovery codes by registering them as an MFA verification method.
From Account Settings, select Setup Multi-Factor Authentication. Or if you already enabled other verification methods, select Manage Multi-Factor Authentication .
On the next page, choose Add Recovery Codes. A set of 10 recovery codes is displayed. Save the codes in a safe, accessible place.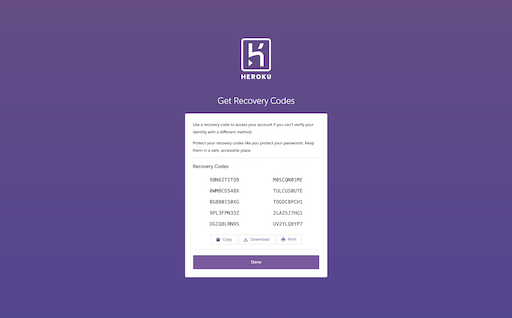 You can generate a new set of recovery codes at any time.
MFA Verification Using a Recovery Code
If you want to log in but don't have your primary MFA verification method available, you can log in with a pre-generated recovery code. After successfully entering your username and password, you're prompted for your MFA verification method. To bypass this authentication method:
Click on Didn't receive a notification?
Select Choose Another Verification Method
Select Recovery Codes
Enter a recovery code.
Each recovery code is good for one use only. Codes remain valid until they're used.