Recovery Codes
Last updated January 04, 2023
Recovery codes provide an important backup if your usual MFA verification method is not available. For example, if you normally use Salesforce Authenticator but forget your mobile phone one day, you can still log in using a recovery code. Generate a list of ten single-use recovery codes that you can keep in a safe place until you need them.
We strongly recommend generating recovery codes as soon as possible after you enable MFA. Keep your recovery codes in a safe, easy-to-access place and protect them like you protect your passwords.
Getting Recovery Codes
Generate recovery codes by registering them as an MFA verification method.
Start at Account Settings and select Setup Multi-Factor Authentication (or Manage Multi-Factor Authentication if you have already enabled other verification methods).
Choose Add Recovery Codes option on the next page. A set of ten recovery codes is displayed. Save the codes in a safe, accessible place.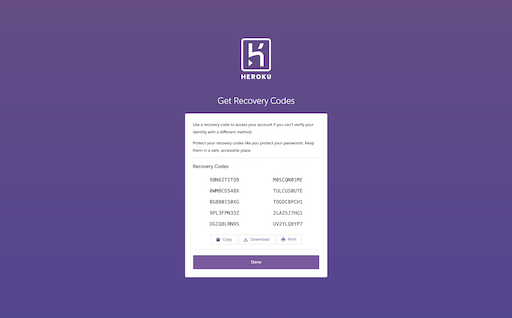 You can generate a new set of recovery codes at any time.
MFA Verification using a Recovery Code
If you want to log in but don't have your primary MFA verification method available, you can easily log in with a pre-generated recovery code. After successfully entering your username and password, you will be prompted for your MFA verification method. To bypass this authentication method:
Click on Didn't receive a notification?
Select Choose Another Verification Method
Select Recovery Codes
Enter a recovery code.
Each recovery code is good for one use only. Codes remain valid until they're used.