Recovery Codes
Last updated April 05, 2021
Recovery Codes are useful when your usual MFA verification method is not available.
For example, you can login to Heroku using a recovery code even if your phone with the Authenticator app that you usually use is not available.
We strongly recommend generating recovery codes as a safeguard to ensure continued account access. Keep your recovery codes in a safe, accessible place and protects them like you protect your passwords.
Getting Recovery Codes
For getting your recovery codes, register them as an MFA verification method.
Start at Account Settings and select Setup Multi-Factor Authentication (or Manage Multi-Factor Authentication if you have already enabled other verification methods).
Choose Add Recovery Codes option on the next page. A set of ten recovery codes will be displayed. Save the codes in safe, accessible place.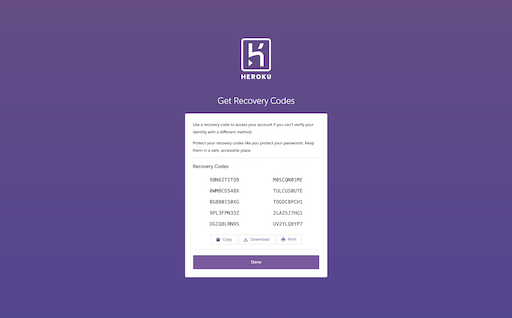 You can generate a new set of recovery codes at any time.
MFA Verification using a Recovery Code
If you have already generated a set recovery codes, you will have the option of using a recovery code for MFA verification.
Select Choose Another Option option if necessary.
enter one of the previously generated recovery code
Each code can be used only once. Any unused codes from your set will remain valid.