Salesforce Authenticator
Last updated June 16, 2023
Salesforce Authenticator is a mobile application that you can use as a multi-factor authentication (MFA) verification method with Heroku, Salesforce, and other services.
The app sends you a notification when you try to log in to Heroku. You approve the login with a tap on your mobile device, or block it if someone else tries to access your account. You can enable Einstein Automation to automatically approve login whenever you're in a location that you trust.
Registering Salesforce Authenticator
For registering Salesforce Authenticator as an MFA verification method, from Account Settings, select Setup Multi-Factor Authentication. Or if you already enabled other verification methods, select Manage Multi-Factor Authentication.
On the next page, choose Add Salesforce Authenticator option. You're prompted to enter a phrase.
Download Salesforce Authenticator from the App Store or Google Play, and install it on your iOS or Android mobile device.
Open the app, and tap Add an Account.
The app shows you a unique two-word phrase. Enter the phrase on the setup page.
Tap Connect on your mobile device to complete registration.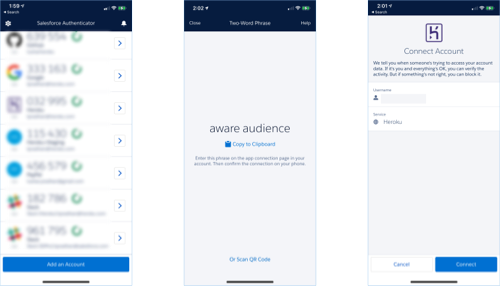 For optimal experience, enable push notifications on your mobile device.
MFA Verification with Salesforce Authenticator
To log in using Salesforce Authenticator:
After entering your email and password, you get a push notification on your mobile device.
Tap on the notification, and approve your login to complete MFA verification.
If you frequently log in from the same location, you can automate approvals by enabling the Always approve from this location option in the app.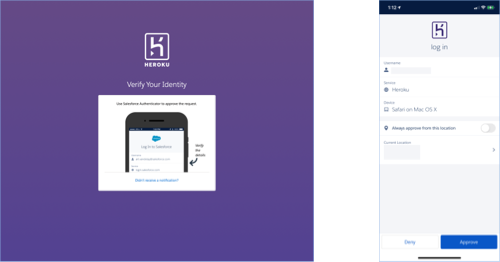 If your mobile device doesn't have connectivity or you haven't enabled push notifications, you can still log in using six-digit TOTP codes generated by Salesforce Authenticator.
You can use Salesforce Authenticator with any services that use an authenticator app to generate one-time passwords. You can securely back up your accounts and restore them to another device if needed. You can even approve logins on your Apple Watch.