Authenticator Apps
Last updated April 05, 2021
Heroku supports the use of third-party authenticator apps that generate temporary codes based on the OATH time-based one-time password (TOTP) algorithm (RFC 6238) as a MFA verification method.
Registering an Authenticator App
For registering a third-party authenticator app as a MFA verification method, start at Account Settings and select Setup Multi-Factor Authentication (or Manage Multi-Factor Authentication if you have already enabled other verification methods).
Choose Add One Time Password Generator option on the next page. A page with a QR code will be displayed.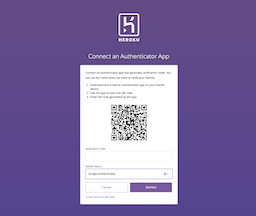 Download and install the Authenticator App on your mobile device
Launch the mobile app on your device, choose the option for adding a new account and scan the QR code displayed. If necessary, use the alternative option to enter a setup key if you have trouble scanning the QR code.
Enter the QR code generated by the app and click 'Connect` to complete setup.
MFA Verification with an Authenticator App
After entering your email and password, you will be prompted to enter the code generated by your app.
Open the app on your mobile device and enter the code displayed for Heroku login
TIP: Authenticator Apps do not require mobile connectivity for generating TOTP codes.