AppSignal
Last updated February 20, 2019
AppSignal is a Heroku add-on that provides error tracking & performance insights for Ruby applications. We provide teams with all the insights they need to run stable and high-performance Ruby applications.
Feature overview
Monitoring for Ruby on Rails, Sinatra, Grape, Rack or your own frameworks
Error tracking: Get alerts and deep insights for exceptions
Performance insights: Insights into controllers and background jobs
Monitor background jobs: Support for Delayed Job, Sidekiq, Resque and custom background processors
Custom metrics: Send us any type of data and we'll graph it for you.
Deploy insights: Filter errors or performance issues per deploy
Host metrics: Get insights into hosts and how they handle your traffic
Front-end monitoring (beta): Catch Javascript errors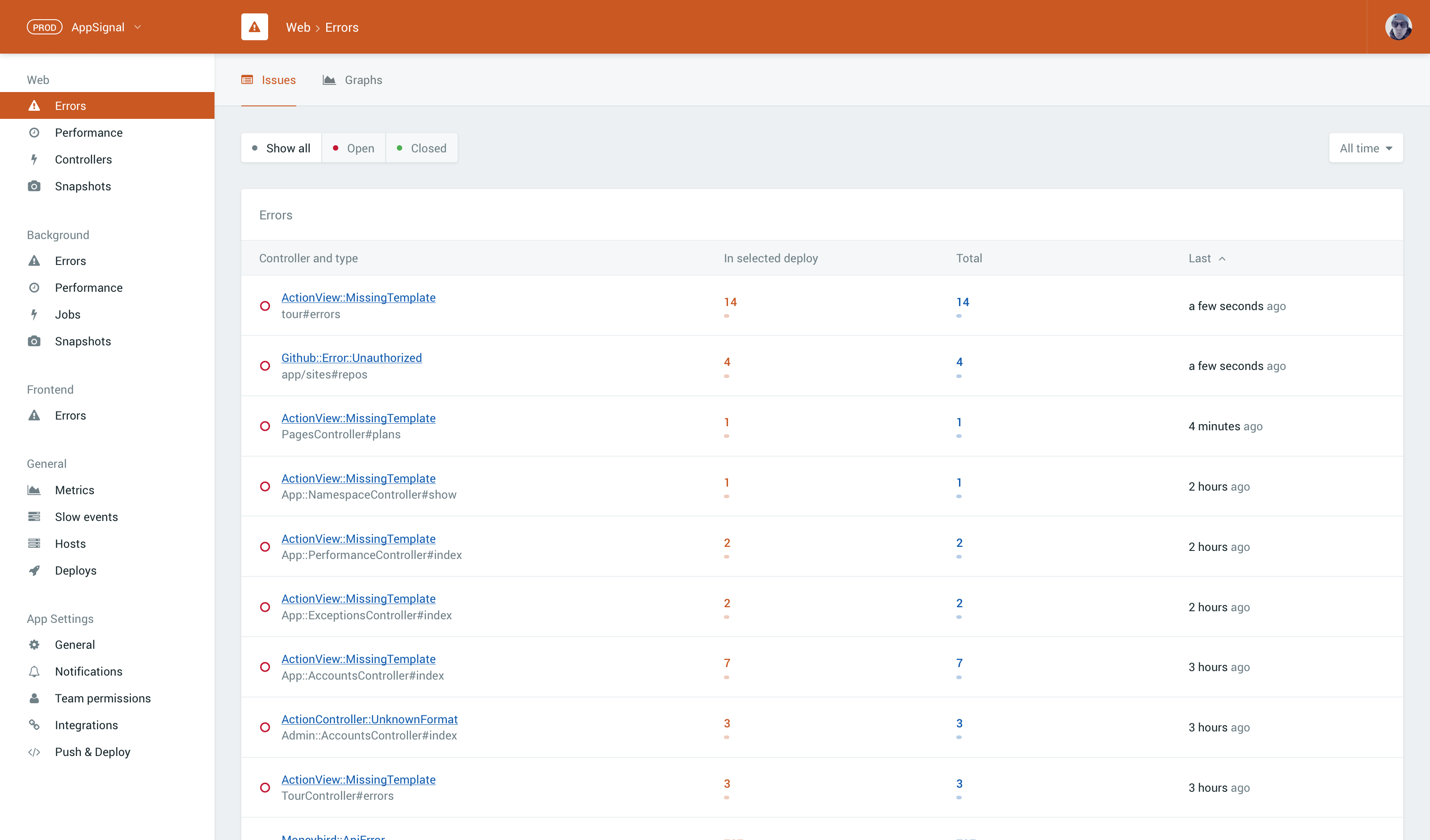 Pricing model
Our plans are entirely based on the number of requests (web requests + bg jobs) we monitor for you. This can be very beneficial for sites that use a big number of dyno's or have a low number of requests on only one dyno. We don't charge for extra dyno's. Take a look at our plans.
Does your site generate more requests then your plan can handle? Don't worry, we will contact you about getting a plan upgrade, you won't lose any data.
Provisioning the add-on
AppSignal can be attached to a Heroku application via the command line:
$ heroku addons:create appsignal
-----> Adding appsignal to sharp-mountain-4005... done, v18 (free)

Once AppSignal has been added an APPSIGNAL_PUSH_API_KEY setting will be available in the app configuration and will contain the AppSignal api-key. AppSignal uses this to push data to it's servers. It can also be used to generate a deploy hook or config file.
Retrieve the api-key using the heroku config:get command.
$ heroku config:get APPSIGNAL_PUSH_API_KEY

Installing the gem
Install the gem and run the AppSignal installer to send data to AppSignal.
Add the gem to the GemFile
gem 'appsignal'

Then update application dependencies with bundler.
$ bundle install

Deploy your application to Heroku.
That's it! Your site is now being monitored.
Get started!
The AppSignal interface allows you to get all kinds of great insights into your application's performance.
The dashboard can be accessed via the CLI:
$ heroku addons:open appsignal
Opening appsignal for sharp-mountain-4005...

or by visiting the Heroku Dashboard and selecting AppSignal from the Add-ons menu.
Invitations
An email has also been sent to the owner of the Heroku app. With this email it's possible to make an additional owner account and log in on AppSignal. If you already have an AppSignal account, you can use this invitation to add this app to your current AppSignal account.
Dashboard users won't receive any email notifications about errors. You can invite additional users in the settings of your account within AppSignal, those users will be able to receive email notifications.
Deploy Hook
AppSignal likes to know when you have deployed your app. We use deploys to measure improvements in your app and as a way to re-set exception notifications.
Add a deploy hook in Heroku
YOUR-API-KEY is your AppSignal api-key, retrieve this using heroku config:get APPSIGNAL_PUSH_API_KEY. Make sure to replace it in the code below.
$ heroku addons:create deployhooks:http \
 --url="https://push.appsignal.com/1/markers/heroku?api_key=YOUR-API-KEY"

Using our config file
This is not required, but if you want to customize the gem settings, you can add a config file to your project. Within the config file you can change the slow request threshold or deactivate your site.
Generate a config file
YOUR-API-KEY is your AppSignal api-key, retrieve this using heroku config:get APPSIGNAL_PUSH_API_KEY
$ rails generate appsignal production YOUR-API-KEY

If you deploy your application AppSignal will now use the api-key contained in this config file instead of the APPSIGNAL_PUSH_API_KEY environment variable.
Adding integration gems
AppSignal supports various other databases like Mongo and Redis. You can add an integration gem for this to your project. Read more here.
Migrating between plans
NOTICE: Our Heroku integration is still in a test phase, migrating between plans is not possible yet!
These are all our current plans.
Use the heroku addons:upgrade command to migrate to a new plan.
$ heroku addons:upgrade appsignal:medium
-----> Upgrading appsignal:medium to sharp-mountain-4005... done, v18 ($149/mo)
       Your plan has been updated to: appsignal:medium

Removing the add-on
AppSignal can be removed via the CLI. This will destroy all associated data and cannot be undone!
$ heroku addons:destroy appsignal
-----> Removing appsignal from sharp-mountain-4005... done, v20 (free)

Support
For more information about getting the most out of AppSignal read our docs.
Please email us if you have any issues or questions. We are happy to help!