StatusPage
Last updated March 09, 2020
The StatusPage add-on is deprecated and can no longer be provisioned. This documentation is still valid for existing StatusPage users.
StatusPage.io is the easiest way to create a branded status page for your company or app.
Each page is composed of tools for downtime communication and history, as well as key system performance metrics that allow you to show future and prospective customers how good you are at your job. Status pages also act as a great deflection of support tickets coming from users that are experiencing issues that you're already aware of.
Configuring your status page
Open the addon to configure your status page
$ heroku addons:open statuspage

Once done configuring, set up your maintenance and error pages to pull from your new status page by following the instructions in the StatusPage management portal
Designing your page
StatusPage.io lets you control what your page looks like by allowing you to set a custom logo, custom CSS values, a CNAME domain (status.yourdomain.com), and favicon. Your page is intended to have exactly your look and feel, and we want the page to be a great representation of your brand.
Heading over to the management portal, you can quickly and easily get your page set up.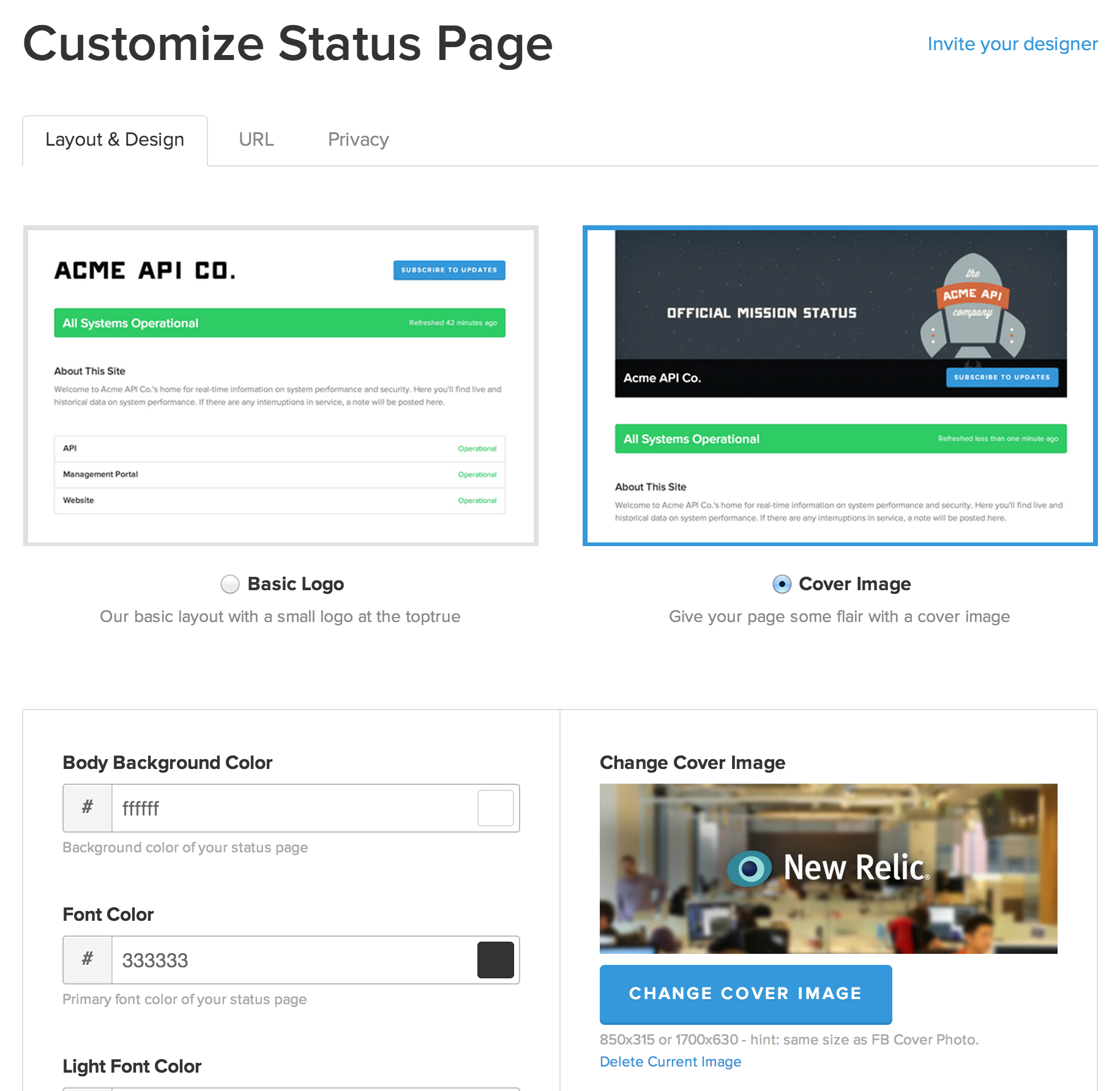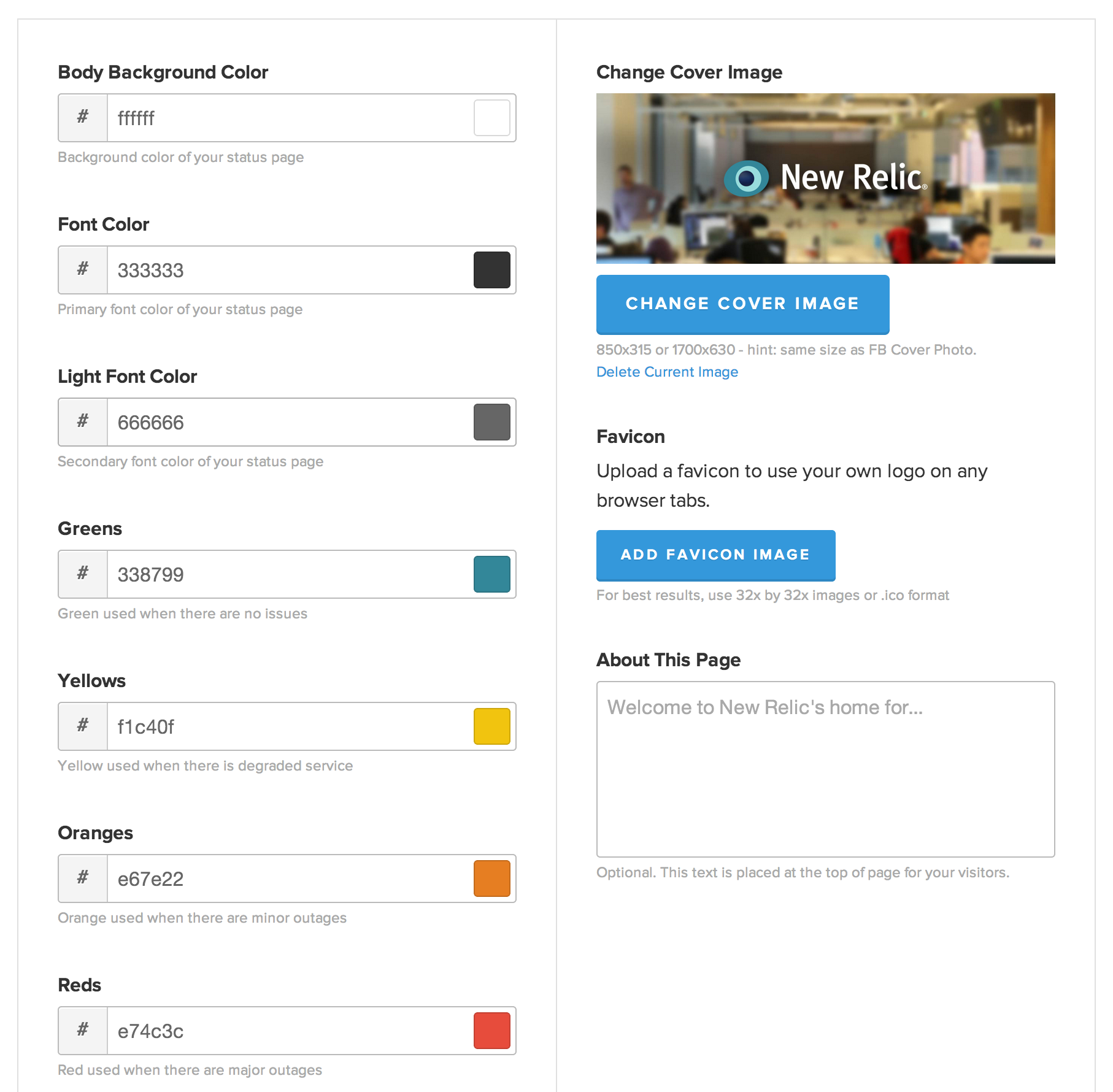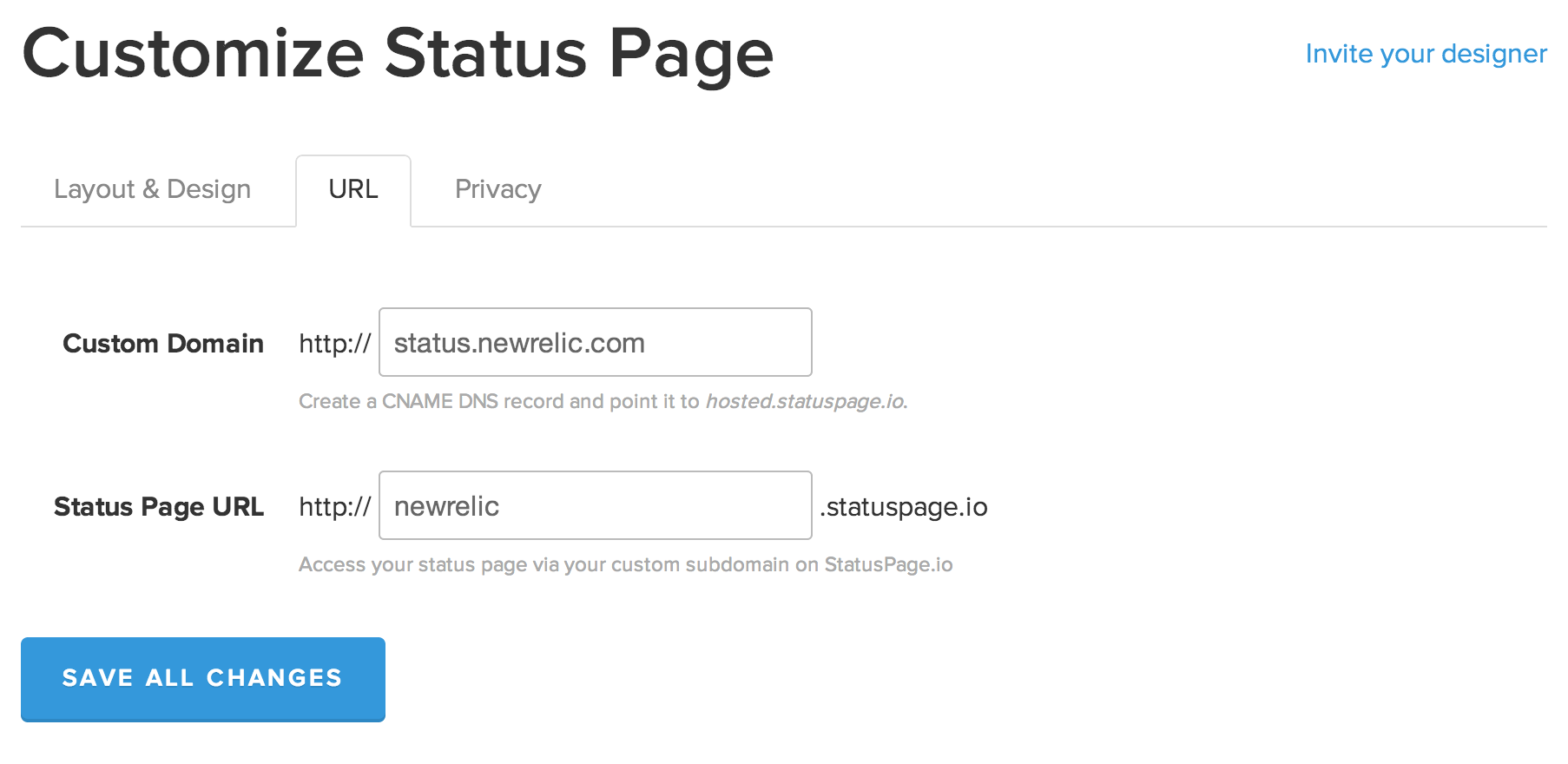 Adding metrics and reporting system issues
Metrics can be added via our management interface once you have your account signed up for at least a Startup plan. We currently support linking data from Pingdom, Librato, New Relic, Datadog, and TempoDB.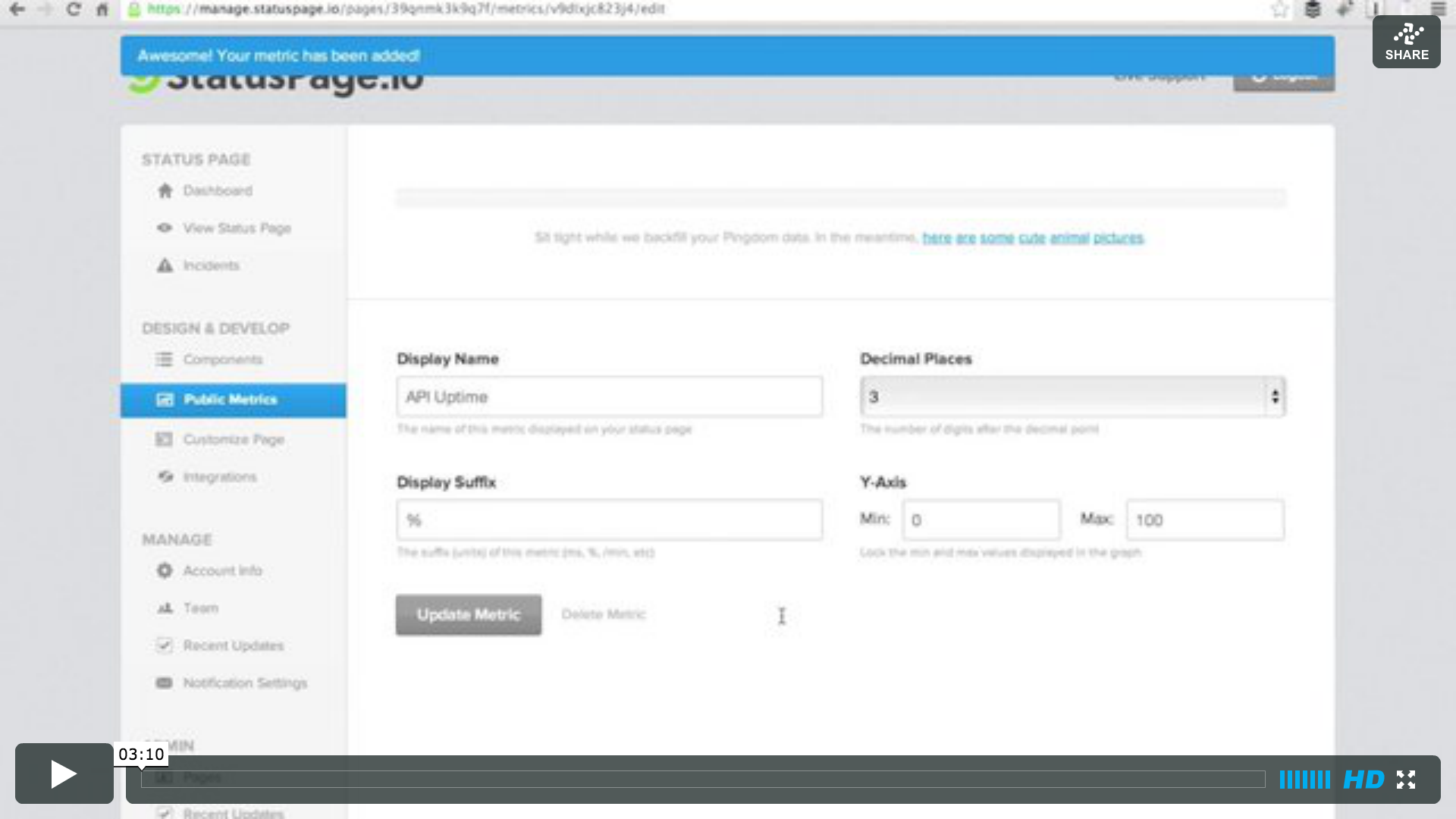 Reporting of downtime or performance incidents can be done via our management interface, or via the StatusPage.io API. We also have a Hubot Script written by the lovely Mathias Meyer from Travis CI.
How does this work with Heroku?
Heroku allows you to override the pages that are shown when your application encounters an error, or when you're in maintenance mode.
Using your custom status page, we can leverage your look and feel to create custom error and maintenance pages that get used for your Heroku app, and that contain your most recent status based on information we have about your page - open incidents, metrics, etc.
Using the error and maintenance page integration with Heroku gives you a couple awesome benefits:
Your users get more context around why they're seeing an error page - helps you avoid nasty emails wondering what's wrong with your service
Public metrics let them diagnose if the problem is on their end or on yours
Funnels them back to your full status page where they can sign up for future notifications, follow you on twitter, and know to come back to this page in the future
Enabling these pages is easy, and can be done once you've added the StatusPage addon by visiting the Heroku Integration section in your Management Portal.
Why have a public status page?
Having a public status page confers a number of benefits to your organization at all levels. Although it seems daunting at first, a number of companies like Heroku and GitHub have led the way in enforcing transparency inside their organization, and benefit from a number of advantages.
Sales: trying to sell up into larger organizations? Public status pages help you appear legitimate in the face of uncertainty, and communicates competency in your ops and customer service processes.
Marketing: public status pages are a great way to gain user trust and spread by word of mouth. It shows that you care, and users will love the proactive approach. See also: http://www.quickmeme.com/meme/3v5t8h/
Customer Support: the best customer support interaction is one that costs you nothing. Letting customers subscribe to updates however they wish (twitter, rss, email, sms, webhook) meets them where they're at, and you'll avoid hundreds or thousands of the same support ticket wondering what's happening and when it'll be fixed.
Dev Ops: incident response and postmortems are both fine arts. Having a central tool to manage communication internally and externally goes a long way to standardizing the frequency and types of communication, and gets you better at being precise and frequent with your updates
Removing the add-on
This will destroy all associated data and cannot be undone!
$ heroku addons:destroy statuspage